YOUR VIRTUAL HUMAN RESOURCES DEPARTMENT
OUTSOURCE
HR SOLUTIONS

AT A FRACTION OF THE COST OF AN IN HOUSE SPECIALIST

Are you and your managers spending too much time and money struggling with day-to-day human resource issues and not enough time focusing on your core business? Are unexpected HR issues destabilizing your workplace? Have you experienced an increase in your HR workload and budget because of increased government regulations? Do you want to maximize your bottom line results as well as employee productivity?

If you have answered yes to any of these questions, outsourcing HR is a cost effective way to help your organization maximize employee engagement. We will help you deal with organizational change effectively, avoid unnecessary costs, legal pitfalls and loss of productivity in areas such as health and safety, recruitment and selection, terminations, compensation, return to work programs and accessibility and thus maximize your profitability.

Companies and organizations have found that through outsourcing, they can get high quality professional assistance with projects and initiatives that require a high degree of knowledge and experience at a fraction of the cost of hiring additional full-time employees to do the work

We are a team of dedicated human resources professionals specializing in all facets of human resource management. Qxplore Inc, your Virtual HR team, is accessible by phone or email and will come to your office to assist on a regular or as a required basis. We will match your organization's culture and provide you with a predictable, sound, reliable service to keep your employees fully supported, while minimizing your personal and business liability.
WE CAN ASSIST YOU WITH MAXIMIZING THE RETURN ON YOUR PEOPLE INVESTMENT
VIRTUAL HUMAN RESOURCE SOLUTIONS
Regardless of whether an organization has, or does not have, dedicated HR staff, outsourcing of some HR services can be a smart alternative. Consider whether it would be more cost and time efficient to outsource whole sections of your routine. HR responsibilities such as:
Hiring
Employee Orientation Program
Health and Safety Program and Training
Training and Development
Salary Administration and Compensation
Benefits Management
Disability Claim Management
WSIB Management
Employee Relations and Grievance Management
Workplace Investigations
Terminations
Alternatively your organization may only require specialized services in one or more of the following areas on an occasional basis.
HR Operational Audit
HR Policy and Procedures Assessment and Development/Revision
Strategic Planning, Leadership and Management Training
Accessibility for Ontarians with Disabilities Act
Disability Management – Return to Work
---
QXPLORE INC.
Health and Safety Compliance

Occupational Health and Safety Act
Workplace Investigations
Bill 168 Workplace Violence and Harassment
Workplace Safety Insurance Act
WHMIS Regulations
First Aid Regulations

Employment Standards Act
Human Rights Code
Labour Relations Act
Performance Management Programs
Conflict Resolution and Mediation
Retention and Employee Incentive Programs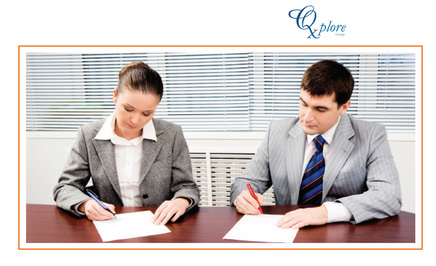 EMPLOYEE ASSISTANCE PROGRAM
An Employee Assistance Program is a very cost effective benefit to retain employees and increase productivity. The employer only pays for the program if it is used and typically 2-4% of the workforce will access the program in any given year. Helping an employee deal with work or personal problem early on can result in significant productivity savings.
WORKPLACE ASSESSMENT, REHABILITATION AND REINTEGRATION SERVICES
Assessment, Rehabilitation and Reintegration Services are provided to employees with serious, complex, or long term issues. Sometimes these issues are as a result of trauma, accident or injury. Assessment and Rehabilitation services are specific to the individual's situation and might include a full assessment, psychotherapy, physical treatment, and other professional services including case management, functional capacity evaluations, and return to work support services. Effective early intervention avoids extended claims for short term disability and ultimately claims for long term disability benefits. Proactive WSIB claim management can reduce cost of claims and return employees to work in a timely fashion
ERGONOMIC ASSESSMENT AND SERVICES
Ergonomics matches the capabilities of a person and their environment with the tasks that they perform and this leads to improvements in productivity and product quality, job satisfaction, as well as increased occupational safety and health. A good ergonomic environment can also decrease loss of work time due to Repetitive Strain Injuries (RSIs), decrease medical costs associated with RSIs, decrease risks of developing chronic pain, and decrease psychological distress levels.
PROGRAMS AND WORKSHOPS
Qxplore will design programs and initiatives for your unique team building, information, skill development and legal compliance needs.
Examples include:
Health and Safety: Legal and Operating Requirements
Human Rights Code
Pay Equity Act
Human Resource Management
Organizational Change
Conflict Resolution and Communication Skills
Recruitment and Selection
Job Evaluation and Job Description
Compensation Program Development, Market Pricing, Salary Surveys
Employment Standards Act
Labour Relations Act
Accessibility for Ontarians with Disabilities Act
Leadership, Management and Staff Training
Team Building
Health and Wellness Team Building Workshops
Maximize Employee Engagement
Performance Management
If you are interested in improving your bottom line results, contact us to set up a complimentary consultation.