---
EQUINE FACILITATED WELLNESS AND THERAPY
INDIVIDUAL AND GROUP PROGRAMS
---
Equine facilitated Therapy aims to increase pro social behaviours, promote well being and improve quality of life for individuals. Research has shown that by pairing animals with humans, participants have demonstrated a re-patterning of maladaptive behaviours, feelings and attitudes, as well as psychological, social and physical benefits.
Participants work towards personal development and growth goals through therapeutic interaction with horses. The Equine Program consists of sessions and activities with facilitated interactions between the horse, participant and the therapist and incorporates a range of psychotherapy, counselling, educational and personal development approaches. Individuals are provided with opportunities to address past trauma, increase confidence, enhance self-awareness, enhance social skills and re-pattern maladaptive behaviours, feelings and attitudes.
The Equine Program is particularly appropriate and effective with individuals who have difficulty engaging through other therapeutic approaches or who have experienced profound trauma. Sessions incorporate strategies based on Sensory Integration theory, attachment theory, relational therapy approaches, social learning and emotional intelligence strategies as well as expressive art.
CHILDREN AND ADOLESCENTS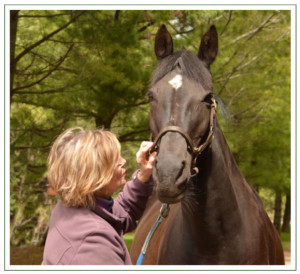 Younger participants and those with special needs engage in activities to improve coping strategies, receptive/expressive language skills, sequencing, judgement, social skills, attention span and understanding of boundaries. By teaching the participants how to communicate with the horse, the therapist is also indirectly teaching the participant how to apply these same skills in inter-personal relationships at home, school and community.
Equine Facilitated Therapy is a proven successful strategy for working with young people with Autism Spectrum Disorder, Attention Deficit Hyperactivity Disorder, Attention Deficit Disorder, Fetal Alcohol Spectrum Disorder, executive function deficits, sensory integration disorder, cognitive delays and Post Traumatic Stress Disorder. EFT is also particularly successful with individuals who do not respond well to or are antagonists towards traditional forms of psychotherapy or group therapy.
ADULTS
The Equine Program for adult participants is particularly used to address past trauma and to assist participants in re-patterning maladaptive behaviours and re-establish supportive relationships. This program may be for individuals alone or in combonation with partners, friends and family members. This approach may be an effective restart for individuals where other therapeutic approaches have not been successful.
SOME BENEFITS OF PARTICIPATING IN THE PROGRAM INCLUDE:
Increased confidence and self-esteem
Improved communication skills, coping, anger management skills
Improved attention span
Experiencing positive relationships
Improving adaptive and executive functioning
FACILITIES AND PROGRAM
We have two facilities within easy driving distance of Belleville, Ontario that offer non-threatening, private, and safe and calm settings surrounded by nature, wooded trails, open vistas and wildlife. The facilities use a small herd of horses that vary in size and temperament for effective partnering to individual needs.
We offer Group and Individual Programs that are purposefully designed and suitable for participants over 6 years of age including children and adolescents with special needs. The usual course for Individual Equine Therapy is 8 sessions but shorter and long term therapeutic courses are also available. Horse experience is not necessary. Sessions include grooming, ground work, exercises and age appropriate games.
GROUP DEMONSTRATION PROGRAM
This two session program is designed as an introduction and orientation to agencies, staff and clients as an opportunity to meet the therapists, show the facility, demonstrate some of the programs and techniques, and to introduce potential individual clients to the program in a safe and comfortable manner. Two therapists and assistants work with a maximum of four client participants for two, two hour, sessions.
Purposely designed individual and group programs are available to child welfare, mental health, trauma, and special needs agencies. We would be pleased to meet with you to discuss our assessment and treatment services, provide program recommendations and discuss funding evaluation and reporting options.

F

OR A

C

OMPLIMENTARY

C

ONSULTATION CALL:


613-966-4262

OR EMAIL RECEPTION@QXPLORE.COM


Quinte Assessment and Treatment Group is a private practice of psychologists, psychotherapists, social workers, chiropractor, and other consultants that since 1986 has been providing a full range of assessment, treatment, psychotherapy and social work services to clients in Central and Eastern Ontario.